GREEN ANKLESHWAR- FREE FROM POLLUTION BY 2001

Ankleshwar is the largest chemical industrial estate in the country and even in Asia, with a large number of units operating in small and medium sectors. The imminent pollution problems from the chemicals units needed to handled to sustain the growth of the units. Community of Ankleshwar identified 'Rotary Club of Ankleshwar' as the best agency to meet the demands of the people and the industries in resolving their problems.
On 1st July 1991, Rotary Club of Ankleshwar rose to the occasion and took up the Prestigious project- 'Green Ankleshwar- Free From Pollution by 2001'. It is now over five years, since we first took up this project. We are proud to state that we have made significant progress towards our goal, as will be noted from the following details: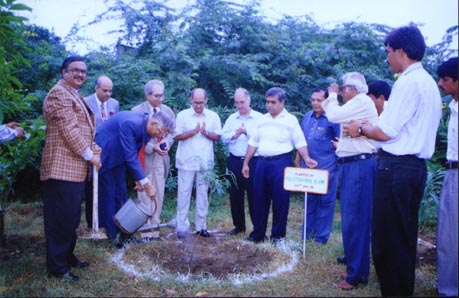 (Tree Plantation Done by PDG Iftekarul Alam from Bangladesh with PRID Kalyan Banerjee, DG Praful Bhatt and Rotarians of Ankleshwar )
1.1 (a) TREE PLANTATION – The major thrust is on tree plantation,
which has been carried out in and around Ankleshwar.
Year No. of trees
1991-92 39000
1992-93 100000
1993-94 125000
1994-95 80000
1995-96 70000
1996-97 11000
(b) GREEN BELTS – Green Belts with thick tree plantation have been developed. One is near Amal Rasayan and second is near Petrofil township. The survival rate of the trees is 75%.
(c) PAUL HARRIS ROTARY PEACE FOREST – Rotary Club of Ankleshwar is developing a 12 acres land along the national highway. The forest will have specialized plantations. Work under this project is in progress. This forest will cover all the districts of Rotary International and is dedicated to the Founder of Rotary Paul Harris.
(d) JAWAHAR BAUG - A public garden in Ankleshwar town was in dilapidated condition. The Ankleshwar Municipal Council has entrusted the work of renovation and maintenance of this garden to Rotary Club of Ankleshwar. Garden is already renovated.
(e) TREE PLANTATION IN SHANTIDHAM – Extensive tree plantation is also being carried out in Shantidham – the Crematorium site.
(f) ANANDVAN FOREST – Recognising the good work being done by our club and also reposing trust in us, the District Collector has further allocated a 10 acres land for similar Development near Sarangpur village.
1.2 ROTARY POLLUTION CONTROL CELL (RPCC)
Rotary Pollution Control Cell was formed in 1991-92 . The aim of RPCC is to discuss Environment problems and workout master plans. This cell consists of experienced persons from the industry, forest officer, Rotarians, press and leaders from the Community. We are proud that Rotary Pollution Control Cell has been recognized as 'Non-Government Organization' by Central Pollution Control Board, New Delhi.
1.3 ENVIRO TECHNOLOGY LIMITED
With the initiative of Rotary Pollution Control Cell, idea was mooted to have a common effluent treatment plant for 100 small industries. Enviro Technology Limited has been formed with the help of Ankleshwar Industries Association and several other factories.
RPCC is also taking a lead for disposal of Solid Wastes.
1.4 Rotary Pollution Control Cell is also monitoring Air Pollution.
1.5 With the above achievements of the last five years, we are confident to reach our goal in making 'Green Ankleshwar – Free From Pollution By 2001'.
1.6 SIGNIFICANT ACHIEVEMENT AWARD
The project 'Green Ankleshwar – Free From Pollution by 2001' has received Significant Achievement Award from Rotary International in the year 1992.