ROTARY AWAS PROJECT FOR EARTH QUAKE REHABILITATION

26th January 2001, India was to celebrate Republic Day. The disastrous earthquake struck which was never before like this. The State of Gujarat collapsed at all fronts by the calamity of this history. The district of Kutch was affected more due to epi-center of the quake was nearer.
The village of Jambusar Taluka & Bharuch District were badly affected by this nature calamity, but were not come in limelight due to the geographic location and remote nature of the place. The village near Bay of Cambay and of Jambusar Taluka; Village Runad, Kavi, Kangam and Thanava have more than 1500 houses collapsed partially or fully down to debris.
Rotary club of Ankleshwar decided to rehabilitate the affected people by constructing 122 houses under the Project Rotary AWAS at kangam and thanva of Jambusar Taluka, Dist Bharuch.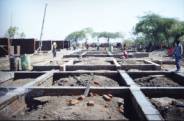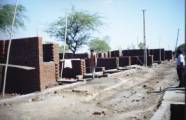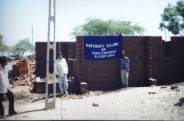 (Rotary Awas Model and in various stages of Construction)
The project site is 100 km away form Ankleshwar some 5 miles away from Arabian Sea. Nearest Airport: Baroda 95 KM
The houses are duplex of 260 sq ft. area having living room, kitchen, toilet block and corridor. The houses are designed to be quake proof and the slabs are prepared with Ferro cement technology that saves 30% cement and steel.
The Construction started on 12 April 2001 and is in its final stages and the houses will be handed over to the beneficiaries by first week of August 2001.
Financial Contribution from Rotary Rs.
a) Rotary Club of Ankleshwar 2991500
b) Rotary Gujarat Rebuild Trust 2991500
(Under TRF)
Contribution from Government 4800000
This will be the first project of rehabilitation of quake-affected people of Gujarat that will be completed by a Rotary Club.
PROJECT PROFILE
PHASE - 1
CONSTRUCTION OF UNIT BUILDING
EXPECTED DURATION - 2 MONTHS PROJECT STARTED ON 8TH APRIL 2001
PROJECT COMPLETION – 5TH August 2001
COST: 87,05,307 LACS
PHASE - 2
CONSTRUCTION OF ROADS, STREET LIGHTS EXPECTED DURATION – 1 MONTH
STARTING DATE - 15TH August 2001
COST: 4 LACS
PHASE - 3
BOREWELL, OVERHEAD WATER TANK, PUMP ROOM, DISTRIBUTION SYSTEM OF WATER
DURATION - 1 MONTHS
STARTING DATE - 15TH August 2001
# BOREWELL IS ALREADY DONE
COST: 10 LACS
PHASE - 4
SITE DEVELOPMENT, PLANTATIONS AND LANDSCAPING
PROVISION OF SOCIAL INFRASTRUCTURE AND RECREATIONAL FACILITIES FOR CHILDRENS
DURATION – 15 DAYS
STARTING DATE – 25TH August 2001
COST: 6 LACS